Webinar: Operationalizing the VPs Through the Lens of Protecting the Rights of Women and Other Disadvantaged  Groups 
October 30, 2023 •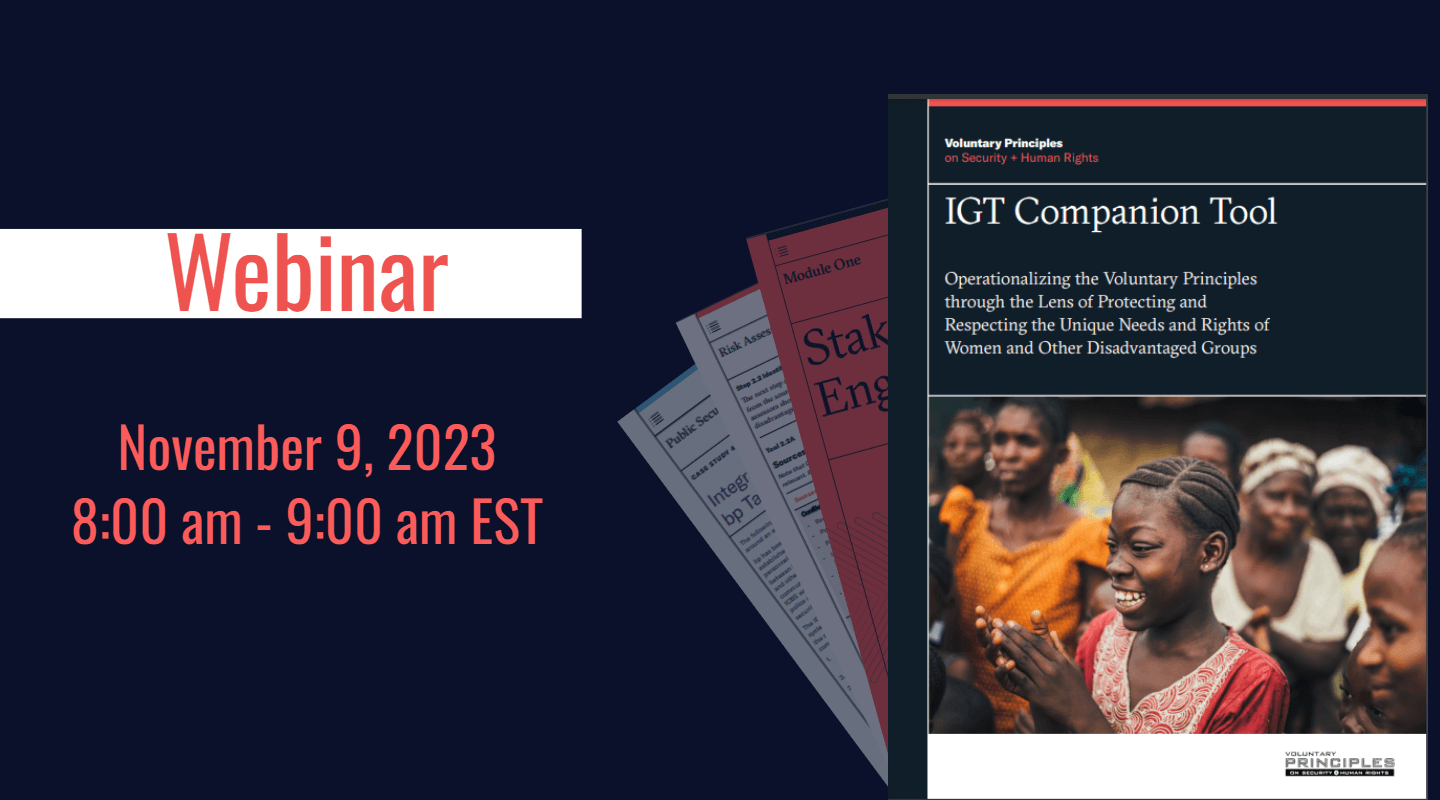 Join the VPI at this public webinar, where panellists will present the new IGT Companion Tool — Operationalizing the Voluntary Principles Through the Lens of Protecting and Respecting the Unique Needs and Rights of Women and other Disadvantaged Groups.
The webinar will provide companies and practitioners with guidance on applying a lens to their implementation of the Voluntary Principles that is responsive to the unique security and human rights needs of women and other disadvantaged groups. During the session, tool author Julie Pezzack will first provide an overview of the tool and explain how it can be employed. Following the introduction, the panellists will discuss scenarios and offer a Q&A session to help inform the audience on integrating gender and disadvantaged groups into the design and implementation of security operations.
Funded by Global Affairs Canada and authored by ESG management consultancy Stratos and non-profit organization IMPACT, the IGT Companion Tool was developed in response to the growing recognition that the risk and impacts of human rights violations are not felt equally by all – some groups, such as women, Indigenous Peoples and children, may be at a heightened risk of experiencing human rights violations. They may also suffer greater impacts and face additional barriers to accessing the mechanisms meant to address these violations.  
When:
Thursday, November 9, 2023, 8:00 am – 9:00 am EST
Panellists:
Julie Pezzack (Co-author and Presenter), Stratos
Kady Seguin (Co-author), IMPACT
Michelle Pontré, International Council on Mining and Metals (ICMM) 
Moderator:
Wendy Wilson, Fund for Peace
---
About the Voluntary Principles
The Voluntary Principles on Security and Human Rights are an internationally recognized set of principles that guide companies on how to conduct their security operations while ensuring respect for human rights.
To promote implementation of the Principles, the Voluntary Principles Initiative (VPI) was created. The Initiative is comprised of over 60 members including companies, governments, and non-governmental organizations that share best practices and mutually support the implementation of the Principles.
Contact the VPI Secretariat at info@voluntaryprinciples.org.