Register for the webinar "Introduction to the VPSHR: Addressing Security and Human Rights Risks"
January 18, 2021 •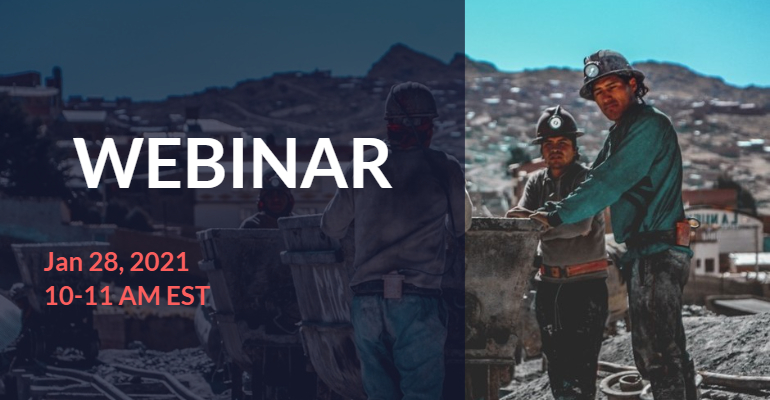 The Voluntary Principles on Security and Human Rights (VPSHR) has been implemented in the extractive and other sectors' operations around the world. The Voluntary Principles Initiative (VPI) is a multi-stakeholder initiative (made up of companies, governments and civil society) that promotes the implementation of the VPSHR, which guides users on providing security for their operations while respecting human rights. Companies often operate in complex environments with little guidance on the ground on how to observe their human rights responsibilities. The VPSHR helps companies understand the environment they are operating in, identify security-related human rights risks, and take meaningful steps to address them.
This introductory seminar will first provide a brief overview of the VPSHR and the VPI. Our panel will then focus on fundamentals of VPSHR implementation as well as reflect on what membership in the VPI means to each Pillars (Corporate, NGO and Government). The session will conclude by taking questions from the audience.
Date: Thursday, January 28, 2021, 10-11 AM EST 
Moderator:  Kaveh Shahrooz, Deputy Head of Secretariat, Voluntary Principles Initiative
Panelists:
Mora Johnson, Head of Secretariat, Voluntary Principles Initiative 
Brian Gonsalves, VP of Group Sustainability (Security and Human Rights) at AngloGold Ashanti 
Doug Brooks, Operations Director, Fund for Peace 
Leslie Taylor, Foreign Affairs Officer, United States Department of State 
Kaveh is lawyer and a former Senior Policy Advisor to the Human Rights Policy division of Global Affairs Canada. In that role, he served as a member of the Government of Canada delegation to the Voluntary Principles on Security and Human Rights. He also has corporate experience in human rights and corporate social responsibility initiatives in the mining sector. Since January 2019, Kaveh is the Deputy Head of the VPI Secretariat.

Mora is an international human rights lawyer and a leading expert in responsible business practices. She currently serves as a Board member to the Canadian Commercial Corporation, a Crown Corporation. As a former Government of Canada official, she served as Chair, OECD Forum on Responsible Mineral Supply Chains, participated in the VPI Steering Committee, and led Canada's efforts on Business and Human Rights. She leads the VPI Secretariat team since January 2019.

Brian is currently Vice President: Group Security and Human Rights (Group Sustainability) for AngloGold Ashanti, one of the world's leading gold mining companies, a position he has held since 2009. Collectively he has worked in the mining industry for 33 years.

He is part of the Sustainable Development Leadership team within his organisation and has recently also headed up the Group Community and Government Affairs function for 3 years. His role also includes co-ordinating Crisis Management for the organisation and is intrinsically involved in the COVID-19 business response.

He has been a member of the Security Executive Council (USA) and currently also a member of ASIS International and has also served on several national and international forums for Security and Human Rights.

He has been involved in the VPs Initiative since 2007, and through the years served on the Board of the VPs Association and the VPs Initiative Steering Committee, which he currently serves on as a Corporate Pillar member.

Doug is Operations Director at the Fund For Peace. He leads FFP's responsible business practice, including implementation of security and human rights projects in partnership with natural resource companies, governments, and multilateral institutions. He also represents FFP at the international level of the VPSHR, and coordinates our Human Rights and Business Roundtable.

Prior to joining the FFP, Doug was founder and President of the International Peace Operations Association (now the International Stability Operations Association) representing firms providing services in conflict, post-conflict and disaster relief environments. He has published extensively on the role, ethics and regulation of the private sector in supporting international efforts to address conflict. He also serves on the Board of the Afghan-American Chamber of Commerce and as Adjunct Faculty for the University of Fiji.

Leslie has worked in the U.S. State Department's Bureau of Democracy, Human Rights, and Labor (DRL) since 2009. She began in DRL's Office of South and Central Asia where she covered a wide range of countries before later moving to DRL's Office of Multilateral and Global Affairs where she is now on the bureau's Internet Freedom, Business, and Human Rights (IFBHR) team. IFBHR helps set and execute foreign policy related to both respect for human rights online as well as responsible business conduct. She holds a master's degree in Comparative Politics (Latin America) from the London School of Economics and Political Science and has a bachelor's degree from Montana State University in Spanish.