View the recording – Webinar on Security and Human Rights and the treatment of national minorities
June 26, 2020 •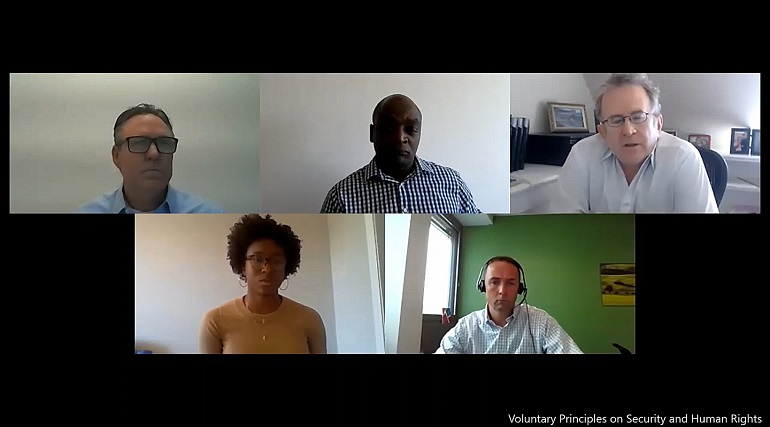 Recent weeks have seen demonstrations around the world condemning police brutality and systemic racism present in some public security institutions. Improving the human rights performance of public and private security organizations is a global endeavour. Our panel of experts will discuss their experience and longstanding efforts in improving the human rights performance of police and security guards in the context of minorities. Topics to be discussed will include: understanding the unique risks faced by minorities, security sector reform, strengthening human rights policies, building community trust, and effective vetting of security providers.
Globally, over 50 government, NGO, and corporate members of the Voluntary Principles Initiative (VPI) promote and adhere to the Voluntary Principles on Security and Human Rights. The Voluntary Principles are used around the world by companies, as well as by private and public sector security institutions in a variety of settings, to guide security providers on how to conduct their operations while respecting human rights.
For the full text of the Voluntary Principles, please click here. The text is available in other languages on the Principles page.
Moderator: Jonathan Drimmer
Panelists:
Please note: the panelists will appear in their personal capacities as experts. The views expressed during the session do not necessarily represent those of their institutional affiliations or the Voluntary Principles Initiative.
Participant Biographies:
Jonathan Drimmer is Strategic Advisor to the VPI Secretariat, and Partner in the Investigations and White Collar Defense practice at the law firm of Paul Hastings. Before joining Paul Hastings, he was Deputy General Counsel and Chief Compliance Officer of Barrick Gold, one of the world's largest mining companies, with operations on five continents.
Kemi Olowoofayoku is an Associate with Search for Common Ground's Central and East Africa Program where she supports teams working with police, military and private security in Tanzania, Kenya, South Sudan and elsewhere on the VPs, human rights within counter-terror and security sector efforts. With a particular interest in nurturing trust, practicing racial equity, and advocating for gender equality, Kemi takes a people-to-people approach to pursuing transformative change in both her professional and personal life.
Mark Wall, MBA, is Chief Commercial Officer of Nevada Copper. He has more than 22 years of experience in the mining industry, most recently as Senior Vice President & Operations Officer for Barrick Gold Corporation where he was responsible for coordinating all aspects of Barrick's portfolio of operations.
Fidelix Datson, MBE MBA, is Group Head of Asset Protection at Tullow Oil. He has a wealth of international defence and security experience and is a graduate of the Royal Military Academy Sandhurst. Fidelix has been in international oil and gas since retiring from the British military in 2012.
Jamie Williamson is Executive Director of the International Code of Conduct Association (ICoCA). Jamie possesses a wealth of international, legal, military and security experience including several years as the Head of the Relations with Arms Carriers Unit at the International Committee of the Red Cross (ICRC).